The Economy of Los Angeles
The economy of Los Angeles is a healthy one and when you first think of Los Angeles, you may think of movie stars, the Hollywood sign or the huge population the Los Angeles houses.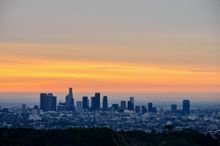 However, behind these images the city of Los Angeles is a business and manufacturing powerhouse with an amazing economy that is fueled by and built on international trade, television, music, movies, technology, oil, fashion, aerospace and tourism. All of these aspects make Los Angeles the biggest manufacturing center in the United States.
To look closer at which industrial sectors make the economy of Los Angeles what it is, look to the Fortune 500 corporations that have made their home in this city. There are five sectors in Los Angeles that are headed by the following Fortune 500 corporations: Northrop Grumman heading aerospace, Occidental Petroleum heading energy, Health Net heading health care, KB Home heading the home and building and Reliance Steel and Aluminum heading metals.
Before it was headquartered in Los Angeles, Northrop Grumman was founded in 1927 in Denver, Colorado. This giant brings in around thirty billion dollars annually and employs more than one hundred thousand employees all over the world.
Occidental Petroleum is currently America's fourth largest oil and gas company, is nicknamed Oxy, and employs around nine thousand workers at locations around the world. Some of these locations include America, the Middle East, South America, and North Africa. Oxy is the biggest Texas oil producers and the leading producer of natural gas in the state of California.
Health Net provides a multitude of health care solutions to millions of customers in each of the fifty United States of America. One of America's largest homebuilders, KB Homes constructed homes for over thirty seven thousand American families in 2005. While they are based in the city of Los Angeles, they also have four other main divisions around the United States.
Lastly, Reliance Steel & Aluminum were established in Los Angeles in 1939 and is a hometown success story. Originally, they were a manufacturer of steel reinforcing bar, but now they sell complete lines of more than sixty thousand metal products and have at least two hundred locations in the United States, Canada, Belgium, China and South Korea.