Moving Plants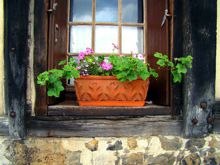 As perishables, plants must be taken care of while in transit and as you settle in your new residence. If your plants are being moved by your moving company, you may want to print this page and give to the crew as a special request.
In Transit
The most important things you can do to protect plants while in transit is to minimize their exposure to extreme weather conditions. If you move during summer, keep in mind how hot can it get in a car and park in the shade during any stops along the way. If it's winter and the weather is cold, try parking in the sun.
For most short trips between origin and destination, your plants should survive with no additional watering, assuming you watered them a day prior to your move day. if you trip is planned to be a long one, check on your plants and water them if you notice they seem a too dry.
Another problem, associated with long trips is exposure to the sun. some plants require sunlight to survive. If possible, open the boxes and allow plants to be exposed to sunlight every other day during daytime. Another option is to take the plants into your hotel room and leave them in the bathroom with the light on.
Settling in Your New Home
As recommended to be the last to be loaded, your plants are one of the first things you should be sure to unload and unpack as you arrive at your new home. Be careful when unloading and keep the boxes leveled.
To unpack, start with opening the boxes from the bottom and removing your plants from underneath instead of pulling them out from the top of the box. This will help to avoid bending or breaking their leaves and branches.
After you unpack your plants, they will have to be placed in an undisturbed spot while you complete settling in. Do not immediately expose them to direct sunlight, let them become accustomed to it gradually, by letting them have indirect light.
This article is provided California New York Express as part of the company's comprehensive Service Pledge. We, at California New York Express, believe that a smooth move starts with education and understanding of the services provided.
California New York Express is a leading moving company, providing superior coast to coast relocation services since 1995. For more information, please feel free to contact us.