How to File a Long Distance Moving Insurance Claim
Regardless of how skilled your moving company is items can still be at risk of being lost or damaged during the moving process. If any of your items are lost or damaged and you have purchased moving insurance, you should file a claim. Filing moving insurance claims has become hassle free thanks to modern technology.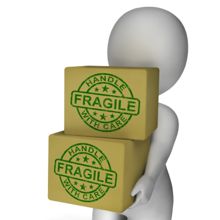 It's quite common these days to be able to handle the entire insurance process from signup to filing a claim all online. Once you choose an insurance company, you will create an online account to manage any issues that may occur.
Before the moving day arrives, take pictures of your valuables so the condition is thoroughly noted. You may also want to compile a list of these items separate from the moving inventory.
The insurance company will require a detailed damage description. The pictures you take and any information you can give the insurance company, such as where scratches and dents are located on your items, will help them to determine the extent of your loss.
In order to file your claim properly, you will need to know the important dates of your damaged shipment. Keep a record of all the dates of everything that was done by your long distance moving company such as the date your items were packed, the date moved, any time in storage, and the date delivered.
It is important to check your items for damage as soon as your moving company delivers them, as you will only have a limited amount of time to make your claim.
At the time of a claim, you may need to provide proof of ownership or value if something is damaged during your move. This is true for very expensive items in particular. The insurance company may require receipts to show that you did indeed own the item and may also require a certified appraisal if you have a damaged item that was worth several thousand dollars such as a piece of art.
If you act quickly after the delivery and you keep a good record of your items, your claim should be settled in a short amount of time. In general, it usually takes less than 2 months to completely settle most claims.
Recommended Reading
Long Distance Moving Insurance