Digging Out The Basement
Of all the areas in the home that can be problematic for packing, the basement often wins hands down. The basement is often the repository for everything that we don't know what to do with, and as a result it often becomes a cluttered, jumbled mess of non-related items, furniture, clothing, and outright garbage. Getting it cleaned out and packed up can be one of the major projects associated with your move.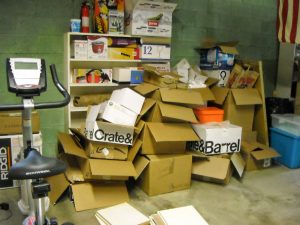 When working in your basement, be careful, especially if it is not a finished basement. These locations may become the homes for snakes or rats, and the last thing you need is a trip to the emergency room for an unexpected bite. Move slowly and refrain from poking your hand into dark corners or apparently empty boxes.
You also want to be diligent in determining what will and what will not be coming to your new home. Get rid of items that have fallen into disrepair before moving day. Those items that will be taken should be stored in strong, sturdy boxes designed to withstand a long distance move.
It's never too early to begin the process. As soon as you know you are moving, begin taking some form of inventory of the items in the basement. You also want to assemble any and all packing supplies that you will be needing, such as boxes, tape, markers, etc. As you collect the basement, go ahead and clean as you go, as this will save time later on.
Check out the basement in your new home. Remember that what is in the basement of your old home may not simply translate into the basement of your new one. Perhaps the new home doesn't even have a basement, or if it does, it doesn't lend itself to storage (such as a finished basement). Examine the new residence and get an understanding of just how much space is available.
Some items may be difficult to move from your current basement, and may require partial or full disassembly. If this is necessary, be sure to keep track of all parts, screws, bolts, etc. so that it goes back together as it should in the new location.
As always, items that will not be kept can be sold off through yard sales or online auctions. It is never too early to start on the basement, as this will be your largest packing and moving project.
Recommended Reading
Packing 101
Packing Material For A Long Distance Move