Where to Do a Day Trip after Moving to New York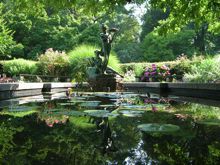 After moving and settling in New York, it's high time to explore and get to know this buzzing metropolis by going on a day trip. But considering the numerous spots the Big Apple has to offer, you can easily get confused on where to spend your first day trip. You'll simply want to explore all boroughs, eat at that famous deli or visit a museum or two. While each of your planned itineraries is each interesting on its own, the key is to group them according to location and first visit the group which you think will interest you the most.
If you want to get a bigger picture of this large metropolis then there is no better way to do this than climbing the famous and tallest building which has graced all too many Hollywood movies: The Empire State Building. From the top floor, you'll get a good bird's view of the whole city which may even help you decide which part of the Big Apple you will want to explore on your next day trip.
Just nearby is the famous Central Park which has been the haven for those who find tranquility in lush green scenery and fresh air. The park will provide a good oasis if you need to take a breather away from the hustle and bustle of the city. Central Park is extremely large, and during your first day trip you can easily get lost through the walking tracks. And unless you plan to spend the rest of a day trip there, it is best just to keep track of where you are or exit/entrance locations.
Around Central Park are numerous museums and a cathedral which are good to visit if you want a taste of history and art during your day trip. The Metropolitan Museum of Art is located on the eastern tip of the Central Park and features a vast collection of art forms. All collections are grouped into twenty two curatorial departments in which one is the Cloisters featuring architecture and art of medieval Europe. Other places to visit on this part of the city are Guggenheim Museum which features impressionist art, the Cathedral of St. John the Divine which shows impressive Gothic style architecture and the American Museum of Natural History.
A day trip to New York won't be complete without a taste of the gastronomical experience that this metropolis is famous for. While there are classy restaurants in this city, nothing beats a deli sandwich served at a very famous spot at Houston Street: Katz's Delicatessen. Not only famous among local New Yorkers, but around the globe for being feature on several films. But most importantly, they serve the best pastrami sandwiches and kosher hot dogs.
There are plenty of places to visit for a day trip after moving to New York including the stunning amusement parks around. For a successful tour, the key is to group destinations according to location so you do not end up spending too much time on travel. Another tip is to find out which public transportation is easier to use, subway, bus or taxi.