San Francisco Convention Centers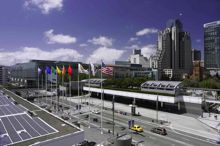 If you are moving to San Francisco or just visiting for a conference you will find that there are many types of convention centers that can best suit your conference needs.
It is important before selecting one to know what the needs are of your audience as well as your own requirements. A few of the most recognized convention centers are The Moscone Center, the West Bay Conference Center as well as hotels that offer space for exhibits and meetings like the Palace Hotel and the Hotel Whitcomb.
The most well known convention center in San Francisco is The Moscone Center, which holds all sorts of exhibits like medical conferences, gift fairs and food shows. Located in the center of downtown San Francisco, The Moscone Center is easily accessible by transit, ferry, car, and walking.
The next well-known convention center in San Francisco is The West Bay Conference Center, which provides a meeting space for weddings, receptions, meetings, seminars and important events. This large center is conveniently located in the trendy and extremely popular Fillmore Jazz Preservation District of San Francisco. The West Bay is across from the Fillmore Heritage Center and a short walk from a host of shops and boutiques and hotels.
The West Bay Conference Center offers 23,000 square feet of exhibit space and is conveniently accessible by public transportation. The event staff is very well trained to meet all your convention needs, from the most basic off-site business meeting to the most extravagant formal convention.
The great city of San Francisco also has many convention centers located within hotels like the Palace Hotel, the Hotel Whitcomb and many others. To locate a hotel convention center that is best for you and has all the amenities you need, it is best to do some research on each one to know exactly what the center can offer. It is important to check references through past participants as well as with the local Chamber of Commerce.
Most of these centers can handle basic events such as meetings and exhibit space but if your event is more detailed or more expensive you will want to find a convention center that can offer everything you might need.