Where to Eat in San Francisco
If you are moving to San Francisco or even just visiting San Francisco you will find that there are plenty of great place to dine. All over San Francisco, there are a variety of restaurants that will suit the taste of any individual.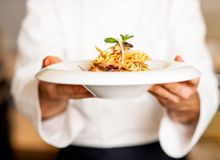 If you enjoy breakfast, stop off at the Garden Court located at the Palace Hotel. Garden Court offers a large breakfast buffet American, French and Japanese cuisine. For Sunday brunch they offer seafood, meats, omelets and many more great foods. If you prefer the more home-style type breakfast, you may choose to go to the Dottie True Blue Cafe. Here you can find baked breakfast foods like muffins, pastries, scones and breads. This quaint Cafe has many meals to choose from on their menu and drinks like cappuccino, latte or your favorite blend of coffee.
San Francisco has great places to dine for lunch. Stop off at the Fog City Diner that is a great lunch spot for your entire family and serves various types of foods. If you have children, they even offer fantastic kids meals. After moving to San Francisco, you may find it hard to choose where to eat with the wide variety of restaurants available.
In the evening, when you want to sit down and have a good meal for dinner in a relaxing atmosphere, you will find many places that will offer this type of atmosphere. The first place, Russian Hill is popular for their Italian food and Venetian appetizers. At Russian Hill you can find great tasting low cost meals and cheese plates or other fine desserts to finish off your meal right.
Once you have moved to San Francisco and explored more of what the city has to offer, you will find that there are many great restaurants and cuisines to choose from. Fresh seafood is served each day along with specialty dishes and modern dishes. If you are visiting San Francisco you may also want to try out many of these restaurants to get an idea of what types of foods the city has to offer before you move to San Francisco.