San Francisco Economy
Tourism is the backbone of the economy of San Francisco and is one that does well. You will find San Francisco portrayed in music, film and popular culture, which has helped make this city a landmark that is recognized all around the world. In fact, San Francisco attracts so much tourism each year that it is ranked fourth in this category.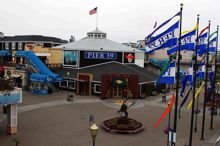 Pier 39 and Fisherman's Wharf reside in San Francisco and are said to be the third most popular tourist attractions in the United States. Sixteen million people a year come to visit San Francisco and this tourism boosts the economy by nearly ten billion a year. San Francisco is also home to the world-class Moscone Center, which has hosted many large worldwide events and is in the top ten North American destinations for conventions and conferences.
The Bank of America, a pioneer in banking services, was founded in San Francisco in the 1960s and has made their services accessible to the middle class and built their landmark skyscraper on California Street to house their headquarters in San Francisco. There are many financial institutions, multinational banks and venture capital firms that have made their headquarters in the city. There are six Fortune 500 companies that reside here as well. The incredible infrastructures of these and other buildings have helped designate San Francisco as one of the top ten Beta World Cities.
The great legacy of the California Gold Rush helped turn San Francisco early in the twentieth century into the principal banking and finance center on the West Coast. Montgomery Street, the "Wall Street of the West" houses the Federal Reserve Bank of San Francisco, the Wells Fargo corporation headquarters and the Pacific Coast Stock Exchange, which is now considered defunct.
San Jose and Silicon Valley in the south have closely tied economies with San Francisco. Silicon Valley and San Francisco both share the need for highly educated and skilled workers.
San Francisco has been positioning itself as a biomedical and biotechnology hub and research center. There is great potential for growth with these two bio-research centers. The California Institute for Regenerative Medicine is in San Francisco and there are public agencies funding stem cell research programs all over the state of California.