Avoiding Second Rate Movers
Far too many people allow the price tag to be the gauge of whether or not they purchase a service. When it comes to your long distance move, this is a bad idea. Moving cross-country can be a challenging investment and is not the time to start cutting corners on quality service in order to save a buck.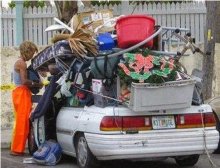 They're vague on the quote. A questionable company will only provide vague estimates on cost and time, which are likely to be followed up with a slew of hidden charges designed to drain your bank account. A reputable company will come to your location, examine your unique needs, and provide you with a written quote, breaking down the process into easily understandable line items.
One word: professionalism. Which would you rather see, smartly dressed and properly groomed representatives who know their industry and can answer your questions thoroughly, or the potbellied dude in the Lynyrd Skynrd T-shirt, smoking a Marlboro and saying "Let's git r done!"?
Better late than never. Well, not really. Moving means being there on time, getting started promptly and being ahead of the schedule game throughout your move. Second-rate movers often double book with the idea that one scenario or the other is not going to work out.
Going above and beyond - without your consent - because it adds to the bill. If the movers are doing something you did not discuss in the contract, such as wrapping items or packing things, it's a good bet they are just trying to sweeten their deal a little bit. Any additional services should be explained in detail and approved by the property owner first.
Playing for time. Some movers charge by the hour for obvious reasons. What should be a two-hour move turns into four, or six. Then you find out that you were charged for the drive to your home. etc. etc. No, get a firm price on the project as a whole. Nebulous parameters only mean larger bills in the long run.
Bad word of mouth. Sadly, most people don't post positive experiences on Facebook or Yelp. They do however, post gripes when they have them. Look for what people are saying about the company you are hiring. A lack of reviews doesn't mean much, but a lot of negatives should tell you all you need to know.