What is a moving checklist?
A moving checklist is a detailed list, also called a timeline or a schedule, of important things that are listed in the order that they need to get completed. For a long distance move, beginning preparations at least two months prior to your move date is ideal. This means, your schedule of tasks will begin at 8 weeks. If you begin the planning process earlier than 8 weeks, naturally your list of priorities would begin at an earlier time.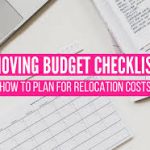 The moving checklist that you create will be unique to the needs of your move. It will help you stay organized and keep track of all the things that need to be taken care of when doing a long distance move. Things can and often do change during the moving process, so be sure to update your moving checklist if any changes occur. This is especially important if multiple users are accessing the document. If you plan to use your smartphone for your moving preparations, there are apps that can be downloaded; Moving Checklist, Fantastical and Wunderlist are a few. They all provide simplicity to keep track of tasks, write and edit lists, keep notes and email reminders. Tasks can be assigned from within the app and information shared between users. Some of the apps even have links from within the app. If for example you need to change your address click the link to be directed to the Unites States Postal Service.
How much should I budget for my long distance moving expenses?
Like a moving checklist, moving budgets help you prepare for your upcoming move and get an idea of what your moving expenses will look like. They allow you to prioritize and make informed financial decisions. Programs such as Word or Excel are pretty simple to use, and offer a lot of tools to customize a document for the individual needs of your move. It's also a good way of having your budget in digital form. Multiple users can have access to the document from any location and on any device.
The moving budget and checklist should be two of the first documents you prepare. The costs for a long distance move can add up. Below is a list of some of the expenses that might apply to your move, add them to your moving checklist with completion time frames.
Costs to hire a professional moving company
If you're using the services of a professional moving company, you will be given an estimate of cost to transport your belongings across the country. In addition to the basic cost, you might consider paying for additional services offered by the moving company. These could include:
Additional services
• Packing and unpacking services
• Disassembling and reassembling large furniture pieces
• Expedited service
• Storage
Extra fees
You will also want to factor into your budget any extra fees that might be charged. The moving company might have already informed you of some of the possible extra charges that might occur at either pick up or delivery, or in the event that something unexpected happens. These fees could include:
• Flight charge
• Shuttle service
• Bulky items
• Extra stops
• Accessorial charges
• Long haul
• Long carry
• Cancellation fee
Insurance
Moving insurance is always advised. Any quotes you receive, add them to your moving budget.
Tipping
Tipping both crews at pick up and delivery is customary. Add the dollar amount you plan to tip and the cost of any snacks and drinks you will provide.
Costs of a DIY move
If you will be moving your own items long distance, you will need to budget for:
Rental truck
When receiving quotes from rental truck companies, make sure to find out if any mileage allowance is included and fees for extra miles.
Gas
Estimate how much gas is going to cost you for the whole trip. This might be one of your biggest expenses. If needed, you can use an online fuel calculator.
Moving equipment
To help you load, and unload specialized equipment such as a dolly or loading/unloading ramp could come in handy.
Insurance
Insurance is always recommended. Check what the truck rental company provides. If you have credit cards or homeowners insurance, contact them to see if you are covered when transporting your belongings. If you are not covered, factor the cost for insurance into your budget.
Helping hands
If you'll need hired help to load and unload, budget in the costs and how many people you will need.
Transporting your car
Moving a car across the country is very common. Decide how you'll move it and what the associated costs are. Will you…
• Hire an professional auto transporter
• Have the moving company move your car with your personal belongings.
• Drive it yourself or hire someone to drive it
• Haul it at the back of your rental truck.
If the car will be driven across the country, you will need to budget for:
• Car inspection (schedule this a few weeks prior to the move and include on your moving checklist)
• Gas
• Fee for having someone drive it.
• Additional costs, such as: parking fines, repairs etc.
Travelling to your new home
While your belongings are in transit, you and your family will also need to travel. Costs could include:
• Hotels
• Flights
• Food
• Attractions along the way
Taking the time to create a detailed moving checklist and moving budget will give you the confidence to move forward when decisions need to be made during your move.
Recommended reading
Long Distance Moving Insurance