Where to Shop in San Francisco
With all of its unique places to shop, San Francisco is a very interesting city. If you are moving to San Francisco and are wondering where to shop you should not have any trouble finding a place. Here in San Francisco you can shop for anything, no matter what you are looking for.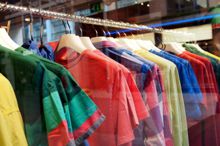 San Francisco has just about any style in clothing you could want, from designer to second hand. If you are looking for designer clothing, you can find many designer labels and other types of stores that offer a variety of merchandise for your convenience. A great place to start is at Fisherman's Wharf, which is a fun place that offers many specialty shops along the waterfront. After a long day of shopping you will also find great restaurants and entertainment for you and your kids.
If you have not been before, The Cannery is a great place to shop in San Francisco. With its attractive old European style, The Cannery offers great shopping and dining as well as the Green Room Comedy Club for live entertainment. You may also run into some famous street performers here on the grounds at the Cannery.
After moving to San Francisco, another good place to shop is Pier 39, which is a multi level shopping mall located near the Fisherman Wharf area. This mall is along the waterfront and welcomes millions of visitors every year. This waterfront mall offers over one hundred specialty stores to find exactly what you are hoping to find. It also features many restaurants for wonderful dining. You can also enjoy watching the sea lions as they sun bathe on the docks.
Ferry Building Marketplace is another great place to shop and offers some of the most delicious gourmet foods in the city. If you like the outdoors, visit the Farmers Market which is a great place to visit on the weekends to find the best fruits, vegetables, chocolates, breads, flowers, plants, gifts etc.
For a great shopping area in the downtown area, visit Union Square, which offers designer stores, department stores, specialty shops and many other unique shops. You can find the latest in fashion trends and all other fashions to suite your needs here. After moving to San Francisco, you will have great places to shop.