Los Angeles Demographics
Based on California Department of Finance estimates for January 1, 2008 Los Angeles is the largest city in California with four million forty-five thousand eight hundred seventy two people living there.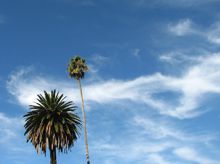 A census from 2000 determined that per square mile there was a population density of seven thousand eight hundred seventy six people and the number of housing units was one million three hundred thousand thirty-seven, seven hundred six with the average density of two thousand eight hundred fifty one per square mile. The city of Los Angeles is well populated with people from many different ethnicities. In the last few decades, the city has seen major new groups of Latinos and Asian immigrants moving to Los Angeles.
Racial distribution, according to the census done in 2000, was forty six percent white American, eleven percent African American, ten percent Asian American, twenty five percent from other races and five percent from two or more other races.
According to the census, forty-two percent spoke English, forty-one percent spoke Spanish in the year 2000 and since the early 1980s, Los Angeles has been what is known as a minority-majority city.
The median age for Los Angeles at this time was thirty-two and for every one hundred females, there were ninety-nine males.
In 2000, according to the census, thirty-three percent of households had children under the age of eighteen and forty-one percent of those households were married couples.
Fourteen percent of households in 2000 had a female householder with no husband present and thirty-seven percent were non-families.
There were twenty eight percent of those households that were made up of a single person who lived alone.
During this time in Los Angeles, the average household size could be rounded up to three people and the average family size could be rounded up to four people.
Thirty six thousand six hundred eighty seven dollars was the median income for a household in Los Angeles at this time.
The average income per family was thirty nine thousand nine hundred forty two dollars with males having an average income of thirty one thousand eight hundred eighty and females having an average of thirty thousand one hundred ninety seven. Per capita income at this time was twenty thousand six hundred seventy one dollars.