Storage
Moving can be a big endeavor. Add to the mix, the possibility of not having your belongings delivered straight away to the new destination, means you will also have to think about and arrange storage for your items. Knowing How Long Will It Take For My Items To Be Delivered will assist with knowing how long you might need storage for.
If you have decided to take a vacation while your items are in transit, drive across the country, or perhaps your new home isn't ready to move into, storage can be a great option for that "in between". The first thing is to decide whether you will require short term or long-term storage.
What To Consider Before Choosing Where Your Items Will Be Stored
Accessibility – Hours of operation.
Cleanliness – If possible, visit the storage facility to see how it is maintained. You could also check reviews and photos online.
Pricing – Short term and long term costs. Are there additional fees?
Notice - How much notice is required when vacating a storage unit?
Security – Is the facility secured and have adequate fire systems in place?
Storage Options
Moving companies - If you have hired a moving company to transport your belongings, find out if they provide storage. Many moving companies offer both short-term storage, up to 3 months called Storage in Transit (SIT) or long-term storage. Although it may cost more than using a self-storage, logistically it can prove to be far simpler. The moving company will pick up your items, store them, and then deliver to your new home when you are ready to receive your belongings.
Self-storage - If you need short-term storage or long-term storage, which is accessible, then self-storage is a good option. There are many self-storage companies to choose from, make sure to research the different companies in the area of your choice, and contact them directly to ask any questions you may have.
Once you have determined how much of your belongings will need to be stored, the next step is to rent the right size space. Storage spaces come in a variety of sizes: Public Storage has an informative interactive size guide. You will be charged monthly for any units you rent. Costs differ depending on the size of the storage space and the location. Urban areas may be more expensive than less populated areas.
If a moving company is moving your belongings, but you have opted to store your items at a self-storage, the moving company can deliver the items to the storage facility of your choice. Once you are ready to take the items out of storage, you are responsible for the transportation of your items. There are also full service companies like MakeSpace that pick up, store and deliver your belongings.
Containers - If you plan to store your belongings long term without needing to access them, then containers are an option to consider. The container company will deliver the container to your home where you will pack it. It will then be taken and put into storage.
Insurance - When storing your belongings in a storage facility, most companies will require that you have insurance. This is in addition to your Moving Insurance. If you have homeowners or rental insurance, your stored items can be covered. It is always best to contact your homeowners insurance directly prior to delivering your items to the storage facility, to ensure you will be covered. Most storage facilities are able to assist those needing insurance.
List Of Common Self-Storage Companies
CubeSmart – Caters to the different storage needs, offering household, business and vehicle storage with facilities nationwide.
Extra Space Storage – Has climate controlled units. Security is a top priority with coded gate access. Public Storage – Has locations in the United States and Europe.
U-Haul – Offers a variety of services for moving and storage needs. It is one of the most popular storage facilities.
How do you organize a storage for long distance move?
Most people don't put much effort into looking for and choosing storage facilities. Here's a good way to look at it - you won't be living there, but your stuff will, so you need to examine the facilities nearly as closely as you would a home.
What are your Storage Options?
Many moving companies offer storage options for its customers. The main benefit is that only one entity handles the move and storage of your items, which will save you time, effort, and possibly money as well. You moving company will generally move the items into their storage and then schedule a delivery when you're ready to receive them.
Your other option is to choose a self-storage facility, where you do all lifting, loading up a truck - which the storage facility will sometimes offer up for free -- and unloading of your goods at the storage facility into a storage container.
Mobile storage is a hybrid offering. A large, portable container is dropped off at your home or business, you load the container, and the container is either stored on your property or stored at a large facility with other storage containers.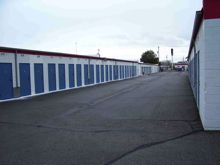 Why Location Is the Key
If self-storage facilities are your preferred option, consider using a facility close to home. This can save money and time if you make frequent visits.
With all options, be sure to take note of access times for your stuff. Some offer 24-hour access while others have more normal business hours. Some facilities, like mobile storage centers, require 24-hour notice to access your unit.
What Security Measures Should you Take
Investigate the security measures for the facility you wish to choose. How do they intend to store your goods within the unit itself? Are the security measures different during regular business hours versus afterhours? What kind of neighborhood is the storage facility in? Would you feel comfortable visiting during off-hours?
How to Decide on the Storage Price
It depends on size, storage period, special needs, and the storage facilities' own marketing objectives. Special offers and discounts from the storage facilities will be fewer during busy periods, and storage companies will try to offer incentives to persuade you to commit to a longer rental period. You'll often find deals for the first month free, so look around.
Get an Estimates Ahead  of the Planned Move
An estimate from a storage company is different from a mover's estimate in that no extra charges can be added without the agreement of the customer. Before the storage company accepts your goods, they will supply you with a written estimate upon your request. The written estimate is usually free. The warehouse operator must inspect the items to be stored physically, and issue you a copy of the estimate.
Don't Forget on Getting an Insurance
Insurance is an important issue to investigate, especially if you plan to store high-value items. Storage companies offer their own insurance, and it is recommended to find out about the facility's procedures in cases such as fire, flood, etc. Make sure you fully understand how the insurance they are offering will cover any potential damage. Also, check with your own agent to see if you renters insurance or homeowners insurance will cover you.
Do I Really Need It?
When deciding whether to store your items, consider what you really need to keep, what can go and what may be needed some day. Keeping only what you really need will reduce storage costs and will prevent the hassle of moving them again later down the road.