Where to find Spas after moving to Los Angeles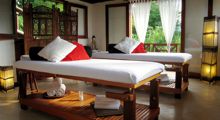 After an exciting day just going through the many sights and flavors Los Angeles has to offer, it will be a great idea to unwind and de-stress in one of the many spas in Los Angeles. Here are just some of the well-loved spas in Los Angeles sure to pamper, rejuvenate, nurture, care, and calm every inch of your body.
Spa for Royalty
For people who want to be pampered like an Indonesian princess, Lulur Day Spa is the place to go. Focusing on the age-old tradition of pre-marriage rituals in Central Java where the bride-to-be is pampered with luxurious skin treatments daily for forty days, Lulur Day Spa will definitely make you feel like a pampered Indonesian royalty.
Many of Hollywood's biggest stars come to Lulur for their various beauty and health needs. You can try Barbra Streisand's Balinese hot stone therapy or Catherine Zeta-Jones' Microdermabrasion treatment. Lulur also employs many unusual massages, scrubs, and facial treatments that are sure to give your skin its ultimate glow. If you feel like a royalty, you can reserve the whole place for that special event or a private party of yours.
Low-Key yet Classy
For classy relaxation more often enjoyed by Hollywood stars, Burke Williams Spa in Sunset Boulevard is definitely a must-try. The spa's totally peaceful and quiet ambience with subdued lighting, hushed voices and walls painted with warm yellowish-brown tones, are enough to give you total relaxation.
Spa treatments range from pure relaxation rubdowns to very probing deep-tissue massages. Try Burke Williams' signature Emilee's Intrigue and you'll be all smiles once you're done with the 75-minute massage with aromatherapy and eucalyptus body wrap. Although a favorite of stars, Burke Williams remains low-key and friendly so you will always feel at home.
Urbanite Spa
The Sea Mountain Spa at the Yuki Sharoni Beauty and Lifestyle Salon is a must-see for design-minded urbanites and showbiz professionals. The Sea Mountain is elegantly designed with Beverly Hills-inspired themes and East Asian interiors. Dropping in for a pedicure will give you a sip of fresh cappuccinos while their three spa treatment rooms offer massages, facial treatments, and wet treatments by candlelight.
A must-try for every novice guest is the signature Yuki treatment - the wet treatment room. It already contains a one-person hydrotherapy tub and a vichy-shower wet table where one can maximize the full benefits of water therapy treatment complete with honey-almond body scrub.
Balinese-Inspired
For people who just cannot get enough of the Asian tropical paradise of Bali, Ona Spa is a big must. With Balinese-style furnishings and a dizzying selection of beauty treatments, the Ona Spa has become a favorite of Hollywood stars like Meg Ryan, Tea Leoni and Uma Thurman. It offers massage, facial treatments, nail care services, as well as eucalyptus steam rooms and Vichy showers.
Ona Spa also provide New Age color therapy in addition to pure oxygen therapy, hand and foot exfoliating scrubs, paraffin dip, dermabrasion, laser hair removal, dermatologen, Botox, and collagen treatments.
These Los Angeles spas are truly physically and spiritually relaxing as they work to help you regain your inner balance and manage stress, boost feelings of tranquility, well-being and ultimately heal.