Where to Eat in Los Angeles
There are many great places to eat in Los Angeles. In fact, it has some of the world's most delectable restaurants along with the great shopping and attractions. One of the first great restaurants you should try after you move to Los Angeles is called The Ivy. Located in West Hollywood, The Ivy offers a variety of foods and decadent deserts and when you dine in its cottage atmosphere you may spot a few celebrities.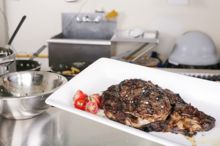 Morton's Steakhouse is the next stop recommended, which offers delicious grade A steak dinners and scrumptious deserts and is also located in the West Hollywood area. If you prefer Eurasian cuisine, don't miss Mako in Beverly Hills. You'll find everything from sashimi salads to half moon lobster to filet mignon with a side of wasabi mashed potatoes. If you prefer a new experience you may want to try The Asia de Cuba which is a restaurant in West Hollywood that offers big budget portions on their menu served family style.
If you like Chinese cuisine, you should move to Los Angeles which is considered by many food connoisseurs to be the second best city for Chinese food, just behind Toronto. Mr. Chows is a good place to start and offers excellent meals in Chinese food that will keep you coming back for more. If you want to go to a restaurant with a romantic setting, go to The Little Door which is a house turned into a restaurant. It offers indoor and outdoor seating to its customers and has an impeccable menu of mouth watering foods.
These are only a few of the numerous restaurants you will find after you move to Los Angeles. There are so many, in fact, that you will probably be overwhelmed when it is time to choose just where to eat. Los Angeles has so many types of cuisines and fusions of different cultural food that can satisfy even the pickiest of eaters. You'll find restaurants serving sushi, seafood, steak, home-style and many more types of delicious foods. After moving to Los Angeles, you will no longer have trouble finding that special place to eat.