Prepare to Move Your Plants - Part 2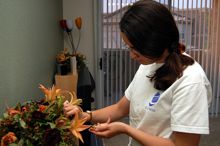 While the first part of this article focused on the tasks required for coordinating your plants' move with your moving company, this part covers the tasks you need to complete to prepare your plants for move.
Kill Pests
To assure a smooth move and minimize complications in interstate borders, killing plant pests is important. Checking plants and soil for bugs and mildew will also allow you to find and remove any kind of disease your plant might have.
You would want to take steps to rid your plants of these things before moving as in addition to making your move simpler it will also help preventing any contaminants in your new place.
There are different ways to attack possible problems, best to check with your local nursery or a good plant book for specific plant pests and remedies. Anything that can't be cured in time, leave behind. Keep in mind that insecticides may contain dangerous chemicals, so use them with care, away from pets and children, always following the manufacturers directions as printed on the label.
Prune Large Plants
Pruning back new growth is extremely beneficial to your plants and should be done periodically to create attractive plants. This task will also scale down the size of your plants, making them more compact and move-compatible to fit into a moving truck.
Although pruning is beneficial to most plant, some plants are damaged when pruned. Before pruning, learn more about your plants by checking a plant book or consulting with employees of your local nursery. Be sure to ask how to prune different plants.
Water Plants
One or two nights before your move, water your plants as you would normally do. Do not over-water, even if you expect warm temperatures during the move as over-watered plants can grow fungus during transit in warmer weather, or freeze in cold winter weather.
This article is provided California New York Express as part of the company's comprehensive Service Pledge. We, at California New York Express, believe that a smooth move starts with education and understanding of the services provided.
California New York Express is a leading moving company, providing superior coast to coast relocation services since 1995. For more information, please feel free to contact us.