Prepare to Move Your Plants - Part 1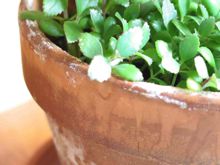 For many people, plants are as important as pets and moving without them is simply not possible. Moving plants is possible but requires some planning. It is recommended to include plans for moving your plants as a part of the big moving plan and start ahead of time to be ready and assure a smooth move.
Check with Your Moving Company
The first step of planning your plants move is to check with your moving company for availability of this service. Plants require special handling and attention to prevent any damages while in transit as they are considered perishables.
Special treatments include air supply, adequate temperatures and water. If you are moving locally and expect pickup and delivery on the same day, then moving your plants is not a complicated task. However, if you move interstate and transportation will take longer than a day, then the special requirement may be more complicated.
Due to these special requirements, insurance does not cover any loss or damage to your plants and some moving companies may not even accept to move plants for very long distances moves over 150 miles.
Interstate Moves Restrictions
Some states have strict rules and regulations about bringing plants into their territory. These regulations might prevent your movers from providing you with transportation services for your plants.
For example: states like Florida and California grow valuable cash crops and are very protective and worry about bugs or decease that may be on any kind of plant you may transport.
It is most recommended to investigate and find out if your plants will be allowed across their boarder before preparing and packing them for the move. Call your local U.S. Department of Agriculture to check on rules and regulations.
Generally, most states require plants being transported across their boarder to be grown indoors in sterilized potting soil and not soil taken from outdoors. You would want to transplant any plants you might have planted in containers using outdoor soil. Transplant them using sterilized potting soil you can buy at local nurseries or garden center before moving them across state boarders.
Safe Transport
If your plants are planted in ceramic pots full of dirt, they must be heavy and extremely breakable. To protect both plants and pots, remove the plants from the ceramic pot and replant it again into plastic containers. Perform this task one week before your moving day.
This article is provided California New York Express as part of the company's comprehensive Service Pledge. We, at California New York Express, believe that a smooth move starts with education and understanding of the services provided.
California New York Express is a leading moving company, providing superior coast to coast relocation services since 1995. For more information, please feel free to contact us.
Recommended Reading
Prepare to Move Your Plants - Part 2