Packing Your Living Room - Part 1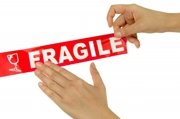 Packing the living room is a serious task. Whether you have a small living room or a large one, your living room usually contains large and bulky items such as furniture, smaller items such as various decorative items, and expensive fragile items such as stereo equipment.
Packing Furniture
Most moving companies will offer free wrapping of large furniture. This service includes blankets (or moving pads) protection and shrink wrap. This technique will protect your furniture from dirt, dust, and physical damage such as scratches and dents.
If your moving company does not provide this service, be sure to properly wrap and protect your furniture before the moving day and before your movers arrive to loads your items.
To protect your furniture, wrap each piece individually using moving pads. To secure moving pads to an item, use tape or shrink wrap. Keep in mind that corners should be padded and protected with cardboard to prevent them from breaking and from damaging other items while in transit.
Packing Stereo Equipment
Stereo equipment is often expensive and very sensitive to shocks. It requires some preparation before you can safely pack and move it.
CD's, DVD's, and Record Players Before you can move these items, you will have to secure and protect the laser / needle. For CD and DVD players, secure the laser with the transport screws, often located on the bottom or back of the unit. For record players, use the plastic lock to secure the arm. If your record player doesn't have a lock, use a piece of tape to secure the arm.
Speakers It is recommended to pack speakers in a padded box. You may find some boxes that are made specifically for speakers. These boxes have the extra cushioning, required to protect the speakers. If you don't have speaker boxes, simply use a large sturdy box and wrap the speaker with some padding before placing in the box.
If your speakers are too large to fit a box, wrap them with moving pads and secure with tape or shrink wrap. These speakers will probably be loaded on the moving truck as is.
Packing TVs
Packing a TV when moving depends on the size of the TV. If your TV is a small TV, you may find a box, big enough to accommodate it. Be sure to pad the box well to protect toy TV from damage.
Large screen TVs cannot be packed in a box (unless you saved the original box). you probably want to leave this task for your movers. Large TVs will usually be crated by your movers. Your movers will build a custom box around your TV and will use moving pads to cushion the interior space of the box.
Recommended Reading Packing Your Living Room – Part 2