Packing Your Kitchen - Part 2
While the first part of this article covered the basic techniques of packing flatware, cups, and glasses, this part covers other kitchenware such as pots, pans, small appliances, and odd shaped items.
Packing Pots and Pans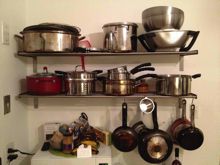 To pack pots and pans, use medium sized moving boxes. Depending on their weight and size, these items can be used for either the bottom or middle layers.

Nest three to four pots or pans of similar sizes together, one inside the other. Wrap each item separately. This will help protecting Teflon items and will prevent them from getting scratched.
To wrap a pan or a pot, cut some pieces of packing paper and place two or three sheets of paper in the larger pan. Be sure to cut the paper large enough so it will cover the entire interior of the largest pan.
Place the next small pan inside the first pan and wrap it with two layers of paper and then insert another smaller pan. Place the bundle of pans or pots upside down in the middle of the packing paper stack. Use three sheets of packing paper to wrap the bundle and seal with tape so that the bundle will not come apart.
Packing Bowls and Odd-shaped Items
Like pans and pots, these items might be packed in either the bottom or middle layer, depending on size and weight. Place shallow bowls on edge in the moving box and nest two to four deeper bowls together, upside down on the rims.
If your bowls have lids, wrap them in paper and place them upside down on top of bowls. Then wrap both bowls and lids together in paper, and seal with tape. Place these items upright in the moving box, then top off the top layer with another padding layer for extra protection.
Packing Small Appliances
Small kitchen appliances include weight scales, food processors, blenders, and coffee makers. Wrap these items individually and packed in a cushioned moving box. If you can disconnect cords, wrap them in plastic to prevent them from damaging the appliance and attach them to the appliance they belong to with tape.
It is recommended to pack your small kitchen appliances together in one or more boxes rather than in other boxes with other goods. This will make your unpacking much more convenient.
Recommended Reading
Packing Your Kitchen - Part 1
How To Pack Your Kitchen