Packing Your Kitchen - Part 1
If you choose to pack your household items yourself and did not hire your moving company to do so for you, you can start packing your kitchen as soon as you finalize your move.
Start with items that are not used frequently such as seasonal items. Then, as your moving date approaches, pack additional items such as small appliances, serving bowls, and pots and pans. Pack your day to day dishes and kitchenware in the last week before moving.
Before You Start
Before you start packing your kitchen, make sure to prepare the followings.
Gather all necessary packing supplies such as boxes, wraps, tape, etc.
Clear your table and use it as a convenient working area
As many item, you will pack in the kitchen, are fragile prepare items for packing in the following order:

Heaviest items (to be packed on bottom of the box)
Lighter items (to be packed closer to the top of the box)
Packing China and Glass Flatware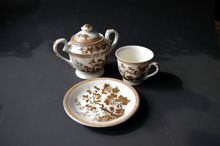 Your first layer will include large china and glass plates, platters and other flat pieces. For the second layer pack smaller items such as plates and saucers. Cut small book boxes to create cardboard dividers to place between layers.
Place padding material such as paper in the bottom of a moving box. Using two sheets of clean paper, wrap each piece, placing it in the center of your packing paper, and wrapping it to be completely covered.
Wrap three or four items in a bundle with a double layer of paper. Place these bundled items in the moving box in a row on the edge and fill up all visible voids using packing peanuts or shredded paper. Add paper on top of the bundle to provide extra protection.
Packing Cups and Glasses
Cups and glasses can be placed one inside another and three or four wrapped in one bundle. Be sure to pad each glass with at least two paper sheets and wrap the bundle with 2-4 more paper sheets.
Even if you are using a dish pack for your cups and glasses, wrap each cup and glass with a layer of clean paper. Then, pack cups upside down on rims in a row on an upper layer with all handles facing the same direction.
Recommended Reading
Packing Your Kitchen - Part 2