Packing Supplies Glossary - Boxes
Book Boxes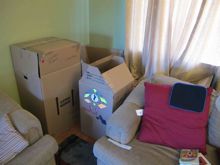 Book boxes are medium size tough boxes and are recommended for books, tools, papers, tapes, CD's, DVD's, and small fragile items. These boxes can carry the heavy weight of paper items when sealed properly.
Dish Packs
Also known as china boxes, these boxes have built in padding to protect fragile items while loaded, transported, and unloaded by your moving company. These boxes are perfect for breakable kitchenware, china and fragile decorative items, small lamps, glasses, and any other small breakables.
For maximum protection, be sure to add additional padding using packing peanuts, packing paper, or bubble wrap.
Electronic Equipment Boxes
Electronic equipment boxes are strong and durable, heavy duty boxes. Mainly used for VCR's, CD's / DVD Players, computers, receivers, and other electronic and stereo equipment.
Linen boxes
Linen boxes are light-weight boxes, recommended for linens, clothes, and pillows. Moving companies tend to use these also for pots and pans, toys, and other small to medium sized items.
Linen boxes are also available in small size for packing shoes, toys, etc. These boxes are all-around boxes that can be used for almost everything in the house that is not too heavy. Do not pack books or heavy hand tools as these boxes are not strong enough for a heavy load.
Picture boxes
These boxes are shapes to fit pictures, paintings and mirror. Moving companies also use these boxes to pack breakable glass shelves and doors as these boxes are tough and provide great protection to these types of breakables.
Wardrobe Boxes
Wardrobe boxes are especially designed to fit hung clothes. They are equipped with a hanging metal bar to allow hanging clothes with their hanger. The large size wardrobe boxes (15 CF) are tall enough to hang dresses, coats, and other long clothes. Using a wardrobe box, you can weeps your items clean and wrinkle free during your move.
Wardrobe boxes are also available in a smaller size (10 CF) and are recommended for jackets, shirts, folded pants, etc. due to their size they are easier to maneuver.
In many cases, movers use these boxes (without the metal bar) to pack tall items such as lamps and hanging racks and to pack light bulk load, such as toys, cushions, tall plants, and garden tools.