Great Museums to Visit in San Francisco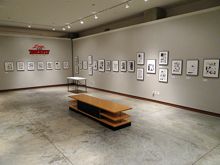 If you are moving to San Francisco or just visiting you will find that the city has many different types of museums ranging from cartoon history, to wax art and even a museum on the fire department.
Whether you are an adult or child, the Cartoon Art Museum, is an extraordinary and one of a kind experience and is the west coast's only museum of cartoon art that works to preserve cartoon art in its entirety. Located on Mission Street, the museum is open daily except Mondays and houses over 6,000 works of cartoon art and has a full library, a classroom for cartoon art and a bookstore. On the first day of every calendar month they host the Pay What You Wish Day.
Another great museum in San Francisco is the brand new Wax Museum on Fisherman's Wharf. In 1998 the old Wax Museum was torn down to make way for the new one on Fisherman's Wharf and the project cost was approximately 15 million dollars. The wax museum features wax statues displayed in an area of 100,000 square feet and is open daily.
The new Wax Museum on Fisherman's Wharf is one of the world's largest and features events like Chamber of Horrors, the Hall of Religion, and the historic Library of U.S. Presidents. If you are a fan of ancient times, it also houses the awesome re-creation of King Tut's Tomb and the unique Palace of Living Art. The museum contains the world's most famous masters and their masterpieces, which come to life through the magic and mystery of wax.
The wax museum attracts visitors from all around the globe to view The Gallery of Stars, where actors such as Leonardo Di Capiro and Will Smith appear to come to life through the artistry of wax. If you move to San Francisco, this one is worth the time.
One last museum worth mentioning is the San Francisco Fire Department Museum, which is located on Presidio Avenue. This historical museum features vintage firehouses, and the history of the San Francisco Fire Department. Admission for this museum is free is one that the local fire department takes much pride in. It is certainly worth a visit.