Great Museums to Visit in New York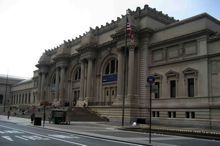 Whether you are moving to New York or just visiting, you will find that it is the home of some of the most famous museums in the world. New York hosts museums of natural history, art, architecture, photography, radio, technology and television. If you are a person who craves culture then New York is probably the best place in the USA to learn about it.
One of the most famous museums in New York is The Metropolitan Museum of Art. Standing on Fifth Avenue, you can see the tall columns and windows, gigantic stairways and water fountains of The Met. If this is your first time to New York City, this is a sight worth seeing just for the beauty of the museum alone.
After stepping into the museum, you will see that the diversity of the artwork on display is even more impressive than the building itself. The Met's collection contains art pieces from every region of the world and nspans all the way back to the Stone Ages. If you are into ancient pieces of art, the Egyptian Art gallery features an entire temple that was shipped to America as a gift and is truly an amazing sight.
The Met is so gigantic that it is almost inevitable that you will get lost amongst its galleries. While the floor plans help, they often cannot prevent even the most familiar person from going adrift. Although it may seem to be a mass of complexity, The Met has tried to arrange its galleries to be as easily accessible as possible.
If you plan to visit the Met or other museums which are located on Museum Mile, it is best to plan ahead. A trip to the Met can easily be a full day if not two. If you can spend a day in a museum, let it be The Met.
The next most famous museum is the Guggenheim. The Solomon R Guggenheim Museum is world famous for the shape of the building itself. Designed by Frank Lloyd Wright, the Guggenheim is shaped like a teacup and has a long spiral ramp with pieces of art along its walls all the way up. The museum offers self guided video tours and group tours for larger audiences. If you are short on time trying to cram everything into one visit, the Guggenheim is probably one of the easiest museums to fit into your schedule.