Moving Your Fish and Aquarium Animals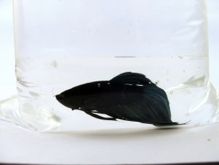 After your aquarium or fish tank is drained, packed, and loaded, you are now ready to start preparing and moving your fish. The three basic steps in moving the fish are packing the fish, storing them while in transit, and providing adequate support to keep them alive while in transit to the new destination.
Packing Your Fish
There are two techniques to pack your fish safely. If your move is short and is planned to be completed within two hours, you can put fish in sealed bags, half-filled with air. There are a few methods to stretch this time-span:
Put fewer fish in the same bag
Fill the bags with oxygen instead of air
Use large bags or a sealed bucket
To move the bags, pack them in a divided container, and ship by air. Air shipping is safe and even pet stores utilize this transportation method for their fish.
Temporary Storage
As you remove your fish and aquarium animals, you will have to temporary place them in a different tank in order to clean, pack, and move your tank. The best option is to see if any of your friends or relatives can host your fish in their tank.
Some pet stores offer temporary boarding services for a fee. If you choose to utilize this option, be sure to have a signed contract, detailing what responsibilities the pet store is assuming.
Some pet stores offer additional service and for another fee, will pack and air-ship the fish to you upon request. Please be advised that these types of services are relatively expensive. If you choose this option, you will have to leave the fish with for the store for a couple of weeks.
Support While in Transit
Be sure to feed your fish well in the days prior to the move as fish don't eat during a move due to stress. In addition, feeding your fish will degrade the water quality with the food. However, have no worries; fish can survive a 7 to 10 days without food.
Temperature is another important aspect. It is recommended to maintain an even temperature during the move. You may want to consider placing the fish in a sealed cooler.
Settling In
After the move and as you settle in, transfer the fish back into the tank. Be sure to make the transfer slowly, as you would when adding new fish to a tank.
This article is provided California New York Express as part of the company's comprehensive Service Pledge. We, at California New York Express, believe that a smooth move starts with education and understanding of the services provided.
California New York Express is a leading moving company, providing superior coast to coast relocation services since 1995. For more information, please feel free to contact us.