Moving Your Aquarium (Fish Tank)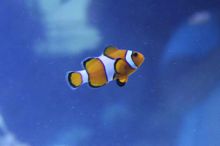 Generally, moving fish and other aquarium animals is not recommended as they usually don't survive the move. This fact is true for long distance moves that take longer than shorter local moves as the long travel is stressful on fish, and even with the best precautions, some simply die.
Based on this information, it is recommended to simply sell off your fish and aquarium-animals collection and get a new one at your destination. However, if, given the above, you still want to move your aquarium, follow these steps to minimize the loss of fish.
Step 1: Moving the Tank
The first step in moving your fish and aquarium animals is to pack and move the tank itself. The main problem in moving the tank is the filtration system. Aerobic bacteria start to die after just a few hours without a flow of oxygen-laden water.
Start with removing your fish into a holding container. Then, drain your tank. If you are planned for a short move, preserve some of the water to help preserve the bacteria colony.
Disassemble your tank and bag your aquarium plants with some water for hand moving. Aquarium plants can survive a fair amount of time if their roots are kept wet. This will not work for long moves. So if you plan a long move (more than a day), discard the water completely.
For short moves, place your filter medium in a sealed container (preferably a never-used pail or other chemical-free hard-sided container) without cleaning it. For long moves, either clean or discard your filter media. Pumps, heaters, etc. can be packed like any fragile appliance.
If possible, pack and move the tank yourself, preferably in your vehicle. Only if you have no other choice, have your movers pack and move your tank. Be sure to check with your moving company that they provide this service and supervise your movers as they pack and load your tank.
As you get to your destination, reassemble your tank. If your move was a short one, you should have enough treated water available to fill your tank and get water moving through your filter system.
If your move was a long one, set your tank up as if it was a new tank, including a week delay before putting fish in the tank. As you put your fish back in the water, buy a few hardy fish and put them in the water first to get the nitrate cycle established. After the tank is stable, put the fish from your old home back in.
This article is provided California New York Express as part of the company's comprehensive Service Pledge. We, at California New York Express, believe that a smooth move starts with education and understanding of the services provided.
California New York Express is a leading moving company, providing superior coast to coast relocation services since 1995. For more information, please feel free to contact us.