Moving with Pets - Transportation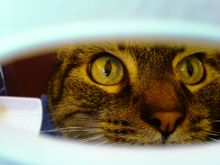 Generally, pets cannot be shipped on moving trucks as most moving companies don't provide pets-transportation services. However, there are companies who specialize in pets transportation.

Another reason pets are not transported using regular moving trucks is the fact that pets often become frightened while in transit and may try to run away. To prevent loosing your pet, your pet should wear a special identification tag, with its name, your name, and your phone number and address. You may also want to consider transplanting an identification chip on your pet.
Air Transportation
If you are transporting the pet by plane, make reservations well in advance and follow airline instructions. To minimize the time your pet may be sitting outside the plane in rough weather conditions, try to book a direct flight.
Inquire about counter-to-counter service as some airlines provide this service so your pet will be carried on and off the plane by an airline employee. This service is a little more expensive but it may be worth it for your peace of mind.
Two weeks prior to the flight, obtain a shipping container and familiarize your pet with it by placing it in the container for a few minutes each day. Gradually lengthen the time until the pet seems to be at ease with it.
Feed the pet no less than five or six hours before flight time. Give the pet a drink of water no less than two hours before the flight. You can also check your pet store for electronic food and water dispenser. This device will release a measured amount of food and water in time increments, you can configure in advance.
Mark the container with names, addresses and telephone numbers of persons responsible for the pet at origin and destination and be sure to get to the freight terminal two hours in advance of the flight.
Car Transportation
If you choose to transport your pet in your vehicle, you will have to help it get used to traveling by car:
Make short car trips with the pet a starting two weeks prior to your move date.
Teach your pet to lie quietly and don't allow it to put its head in the wind as the wind will cause eyes irritations.
Accustom your pet to being on a leash and always use it when outside your vehicle or hotel.
Be sure to take all required equipment to accommodate your pet's travel:
Food and can opener (if required)
Water
Dishes
Leash
Treats
Toys
Bedding
Scooper and plastic bags for cleanup
This article is provided California New York Express as part of the company's comprehensive Service Pledge. We, at California New York Express, believe that a smooth move starts with education and understanding of the services provided.
California New York Express is a leading moving company, providing superior coast to coast relocation services since 1995. For more information, please feel free to contact us.