Moving with Your Kids to San Francisco - Part 1
Moving to California's second largest metropolitan area is an exciting move. Whether you are moving due to career obligations or just because you need or want a change in life, there are some children related factors you must take in consideration.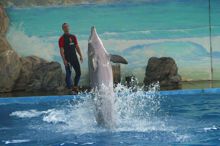 Some of these factors are related to the education system and other factors are important to your selection of your new residence area. However you choose to look at it, knowing the facts in advance will help you make a smart educated decision.
The Advantages of Moving to San Francisco with Kids
There are many good reasons to want to move to San Francisco. The city's vast cultural background and its many kids-related attractions are just a few.
Similar to Los Angeles, for example, San Francisco is a multi-cultural environment that offers kids many chances to meet different people from all over the world and get familiar with the different cultures and experience the multi-ethnic vibe of a large metropolitan.
This unique mix is also a great way to get to know the different kinds of food, music, art, languages, etc. This will help your child's development as he is exposed to different smells and tastes and learns to tolerate different people.
San Francisco Attractions for Kids
San Francisco offers many attractions for families with kids. Here are some suggestions:
Alcatraz Island
Out in the middle of the San Francisco Bay, the island of Alcatraz is a world unto itself. Isolation, one of the constants of island life for any inhabitant - soldier, guard, prisoner, Indian, bird or plant - is a recurrent theme in the unfolding history of Alcatraz.
The Cliff House
The Cliff House, part of the Golden Gate National Recreation Area. This magnificent image taken from Ocean Beach shows the grandeur of the Victorian-era, Gingerbread style of the Cliff House. Open in 1896 it managed to survived the 1906 Earthquake that devastated the city of San Francisco, but met its demised in 1907 when it was destroyed by a fire that started in the kitchen.
Six Flags Marine World
Six Flags Marine World is indicative of the quality found in most Six Flags theme parks. This entertaining park in nearby Vallejo, California merges three parks into one: an Oceanarium, a wildlife park, and an exciting amusement area with thrill rides galore. Roller coaster fanatics will absolutely love it here.
Recommended Reading
Moving with Your Kids to San Francisco - Part 2
Moving To San Francisco