Moving with Your Kids - Settling In - Part 2
The first part of this article covered the main aspects of settling in after the move. This part offers more factors you must consider when selling in.
Welcome Home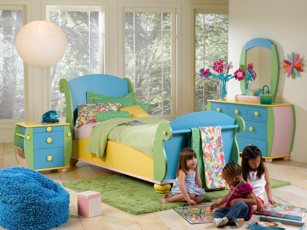 In order to help your children accept the new home and neighborhood more easily, you may want to consider a welcoming ritual for your new home. This ritual can include anything that will have meaning for your children.
The First Walk-through
As you enter your new home for the first time, introduce the place to your kids. Walk with them through the house and show them all the rooms. That will help them get familiar with the new home and will help eliminate any fears or concerns they may have.
Keep in mind that this is the firs time your kids see the new residence so you can help them get a good impression of the home. Emphasize the advantages and try to create a positive state of mind.
For example: you can emphasize the new features that may make this home more appealing to them. If you have a backyard, let your kids understand that now they have more room to play out doors.
It is important to make the "welcome ceremony" before your items are delivered by your mover, and by that allowing your children to get familiar with the new home "as is" before it is full with your items again.
Take Pictures
Make your move unforgettable by taking some family pictures as you just enter the new home and as you start decorating it when your mover delivers your household goods. You can create a step by step selling-in album by taking pictures as more and more rooms are being furnished and decorated.
Designing the Kids' Bedrooms
Your children's room is their space, its going to be their private hideout and it is important to allow them some say in setting up and decorating their bedrooms.
Obviously, age as has a lot to do with your ability to let the kids claim their space. Younger kids cannot decorate their room alone but you can consult with them and try to decorate the room to fit their hobbies, dreams, etc.
Older kids can have more saying in this process. Let them choose where to place their furniture and even the color or paintings on the walls. If you don't always agree with your children, help them understand your point of view. This way, it will be easier for you to change their minds.
If your budget allows it and you are going to buy new furnishings, let your kids help select some of the new furnishings themselves.
Recommended Reading
Moving With Your Kids – Settling In – Part 1
Moving With Your Kids – Settling In – Part 3