Moving with Children - Part 3
The last part of this, three-part, in-depth about moving with children will provide additional tips and information on how to make your children's moving experience a pleasant and successful one.
The Reasons for the Move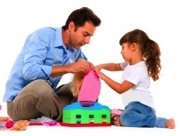 Your kids' age should determine your approach when explaining why you are moving. Older children are more capable of grasping the importance of the move. For example, they will be more tolerant toward the fact the grandma is getting old and needs her family on her side.
On the other hand, younger kids may have difficulties understanding the real reasons for the move. It may be hard to explain to them why dad's promotion cannot be turned down. However, you will need to provide them with good reasons for the move to make them an active part of it.
Be ready for a discussion and try to prepare to answer questions such as "so why can't dad find a new job here?" Keep in mind that honesty is important to maintain your kids' confidence in you as a parent. Answers like "Because that's what we decided" will not help moving the process forward.
Make It Real
Again, depending on your kids' age, use as many tools as you can to help them feel involved. Older children can relate well to maps. Use maps to show to where the family is moving. Show the local maps and together, try to find the new school, grocery store, parks, and other closely attractions.
If you plan to drive to your new location, draw the route together and plan the stops along the way. If possible, plan the route to go through some attractions for the children. Don't make it just about "getting there".
For younger kids, pictures can do the job better than maps. Show them pictures from the new location that they may relate to. For example, if you are moving to Los Angeles, show them pictures of Universal Studios or the L.A. Zoo.
Learn the New Neighborhood
You may find it helpful to present benefits of the move that your children will agree are positives for them. If you are moving to a larger home, let them know that they will finally get their own bedroom. If you are moving from an apartment to a house with a backyard, consider a pet.
Recommended Reading
Moving with Children - Part 1
Moving with Children - Part 2