Special Services for Long Distance Moving
Most long distance moving companies provide special services when needed. These special services all require extra work or expense on the part of the moving company and, therefore, will occasionally involve an extra charge.
Some might ask, "Well, why do they charge these fees anyway?" Moving crews work incredibly hard, and if you take a moment to consider what it would be like to carry a couch (especially a pullout) down three flights of stairs and over a hundred feet to the moving truck, you come to realize why these fees are in place. Here are a few of the common special services you might come across.
Stairs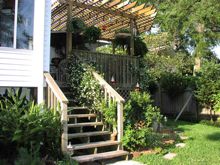 When stairs are involved, there will almost always be a fee. The further the long distance moving workers have to haul your boxes and furniture up or down the stairs, the more demanding the move. While there is more physical labor involved, it is also harder for them to move your fragile items without damaging them or your walls. Each moving company will vary on how they charge for these, but it's usually charged on a per flight basis, just make sure you understand what they consider a flight of stairs.
Long Carry
For those living in beautiful, rural areas with nice long driveways and plenty of space, this probably won't apply to you, but when the moving crew has to carry your furniture over a long distance, usually more than seventy-five feet, an extra fee will apply. If the movers can't get the truck close enough, then be prepared for this charge.
It's particularly important to be aware of this charge if you are located in an area with crowded streets as it can be challenging for the movers to find street parking right in front. Call your local authorities to find a way to reserve parking for the moving truck. For those city dwellers, also be sure to look at the street parking signs that will correlate with your move day. As a side note, moving companies will usually tag on any parking tickets they receive during your move. Make sure you understand the distance and where it's measured from to be considered a long carry.
Shuttle Services
Sometimes known as auxiliary service, this charge would apply if the long distance moving company truck were unable to do a pickup or drop-off in your neighborhood. Circumstances would vary, but many cities have regulations on weight limit and size of vehicles, in which case the main truck could not be used. Sometimes they can park on another street, but usually your items would have to be moved into a smaller shuttle vehicle. Some companies charge an extra fee for this shuttle service.
Elevator
If you are moving out of or into a high-rise building, an elevator will most likely be used. This charge isn't used by all moving companies, but if you live in the city, it's quite common. The reason this charge exists is because it takes more time and energy for the crew to load and unload an elevator over and over again. You would think it would make the process easier on the crew, but in fact it is way less efficient and can be a hassle. Be sure to check with your facilities manager because there are usually rules that apply to elevator use, such as reserving it ahead of time or using a special cargo elevator.
Items Unaccounted For
This is the one you need to pay attention to. It is absolutely imperative to understand that anything that has not been included in the estimate will have to be paid for on moving day. You may not find this in the special services or extra charges section, but it will definitely be in the contract somewhere, so make sure you're clear on how items not included on your inventory list are charged.
There are two methods to how moving companies estimate your move: volume and weight. All moving companies use a chart from the DOT containing a list of standard household items, so when you speak to that really nice representative on the phone to ask them how much it costs to move a couch, they are using the standard sizing from the DOT chart to estimate your move. Wait, did you forget to tell them that it's a pullout couch and weighs three times as much as a standard couch? In the case that you are being charged by weight, you would end up paying more on moving day. In the case of charging by volume, that would not be an issue.
Do you choose volume or weight? Many companies charge by weight, so that's usually what you will come across when looking for a company. The main thing is to make sure you provide the company with a very accurate inventory list and understand how they charge for additional items.
It's also a good idea, if they provide the service, to have an on-site estimator come out to your home so they can see for themselves what you are moving.
Packing
While packing is usually a fee that is calculated into your estimate ahead of time, it can cost extra if you have some last minute items not accounted for as previously mentioned. Some long distance moving companies consider the packing as a part of the move and will price the move accordingly, while others are simply carriers who require that you do your own packing. If the moving crew has to pack anything, be prepared for the extra fee that will apply. You may not actually consider this a fee, but more of a "thank you for not having me lift a finger" service charge.