Moving Green - The Final Clean and Walkthrough
In the moving green section of this long distance moving guide, we have discussed many ways to green your move. In this article we will cover ways to green the final cleanup and walkthrough of your old house or apartment.
Cleaning
When the long distance movers have loaded all your belongings onto the truck and have shipped off, now it is time to clean your home. The first thing to do is to gather all remaining items and debris that needs to be discarded.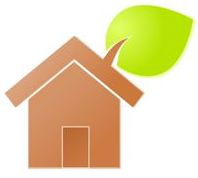 While gathering debris, you will come across many different types of material, some of which can be recycled. For example, there may be some of your leftover boxes that the long distance movers did not utilize. These boxes, along with other recyclable materials should be taken to a recycling center.
Since your long distance movers are prohibited from shipping hazardous materials like antifreeze, gasoline, motor oil, paint, drain cleaner, batteries, pool chemicals, rodent spray, bleach, etc., you will need to dispose of these materials in a safe manner. Contact your local transfer station or collection facility to find out what the requirements are for proper disposal.
After all the remaining debris has been recycled or properly discarded, now you will want to make your home nice and clean. To do this in an environmentally safe way, use cleaning products that are non-toxic and biodegradable such as Simple Green.
Your long distance movers may have left some accidental marks on your walls, which can usually be removed with a cellulose sponge and some soap and warm water. Be sure not to get drywall too wet as it can absorb water and crack.
If the thought of cleaning your house after helping your long distance movers doesn't sound too appealing to you, you can always consider hiring a cleaning crew for your farewell cleaning, to give your house a nice scrub. Make sure that you don't schedule the cleaners on the same day of your move, as some things take a little longer than planned.
Walkthrough
After the house is clean, all that is left is to give it one last walkthrough to make sure nothing has been left behind that was supposed to be sent with your long distance moving company. Be sure to check the nooks and crannies of the attic, basement, and closets.