Moving Long Distance to New York
If you are planning a long distance move to New York, you will have many choices to make, one of them being which moving company you want to use. Long distance moving companies will move your household items from one state to another so that they are awaiting safely for your arrival.
Prices vary from one moving company to another depending on the distance of your move and the amount of items you move. There are some items that need special care, such as big screen TVs or pool tables, which will cost more to move. Most companies will take special care in packing your belongings and will handle them with care when moving from one destination to another.
Long distance moving companies will move just about anything including household or business items, priceless valuables, vehicles etc. Some moving companies even have storage trailers and vans that are climate controlled. While local movers tend to charge by the hour, New York and other long distance movers usually charge based on weight, volume and distance of your move.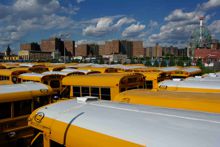 There are many things to think about when moving to New York. If you are a parent, an important thing to consider is the school district where you are moving to and what it can offer your child. It's important to do considerable research on the area you are moving to and know what the crime rate is. The internet is a great source of information to learn about the area where you are moving long distance to.
While New York is rich with culture and other great reasons to move long distance there, you should also consider that most parts of New York are very crowded. If you or your child suffers from asthma be aware that the air may not be as clean as in other cities. One of the most challenging issues with moving long distance to New York is the high cost of living.
If you have lived in a warm climate you should consider that the climate in New York will be a lot different, especially in the winter months when the temperature is well below freezing. New York can be a great place to live, but there are many things to consider before moving long distance.