Los Angeles Amusement Parks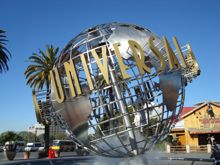 If you enjoy the thrill of amusement parks, Los Angeles has plenty to go around. The Los Angeles area has great parks to suite a range of interests from quiet day trips to parks that require multiple trips.
Perhaps one of the most popular amusement parks in the nation is Universal Studios, located in Studio City Los Angeles. There is also a Universal Studios in Florida, however the theme park at Universal Studios Hollywood has maintained its early connection to the movies and cinema and has resisted the urge to add roller coasters.
Universal Studios Hollywood is divided into two sections: the Upper Lot and the Lower Lot. The majority of the rides, theaters, live entertainment and food booths exist at the Upper Lot, also known as "Entertainment Center." There you can experience the thrills of Back to the Future - The Ride. On this interactive ride guests travel through time in flying cars! Additional rides consist of Terminator2: 3D, Shrek 4-D, WaterWorld, and Fear Factor Live take place.
After the thrills in the Upper Lot, head on down to the Lower Lot where you can visit Backdraft, and Jurassic Park - The Ride, which takes you through the Jurassic Park River, and is one of the best rides in the park. The latest ride, Revenge of the Mummy, is a high-speed indoor roller coaster that goes both backward and forward in the dark and will leave you breathless.
You will also find the home to a variety of restaurants, a tribute to actress Lucille Ball, a special effects stage, and some small shops in the Lower Lot. Kids love the opportunity to see costumed characters wandering along the streets of the Lower Lot.
Once you have had enough time at Universal Studios, it's time to head over to Magic Mountain. Here you'll find rides that range from heart pounding, leave you with goose bumps to kiddie rides. If you are looking for a great place to spend the entire day on rides, enjoy kids karaoke and shop then Magic Mountain is the park for you. You'll also find that it hosts events such as cheerleading events and other conventions.