Where to Find Horseback Riding When Moving to San Francisco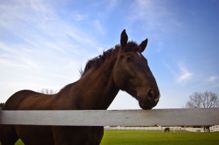 Horseback riding is a consistent favorite when it comes to family activities. It is also an ideal way to explore the sights of a new city because of the adventure it offers. Finding a place that offers horseback riding when you're in San Francisco should be easy because there are actually a lot of options to choose from.
One choice that is available for people living in the San Francisco area is Garrod Farms. Located near San Jose, it offers the chance to take the scenic trails around Saratoga foothills. Garrod Farms offer a variety of services to welcome those who are new in the area. A guided horseback ride going through the rustic vineyards and the slopes of the Santa Cruz Mountain range is the opportunity to see views that are normally not seen.
While San Francisco is known for its fast pace and downtown lifestyle, it also has a side that is rich in natural beauty. There are nearby forests that boast of a spectacular array of flora and fauna. Garrod Farms offers a chance to experience views of the San Francisco Bay and Santa Clara Valley.
Another option for those interested on where to experience an exciting horseback riding when you have opted to move in San Francisco is the Moss Beach Ranch. With over 4,200 acres of space available for riding trails, it is easy to see why it people tend to gravitate towards this area. The views that the Moss Beach Range is diverse in that mountainous vistas and scenic beaches of San Francisco are shown.
Moss Beach Ranch is also a favorite when considering places to find horseback riding in San Francisco because it has an equestrian center. People can sign up for lessons in different aspects in riding such as English lessons and training and jumping. Beginners and those with advanced experience can continue their love of the sport even after making the move to a new city.
There's also the Miwok Livery Stables. It is a good destination for those who love horses. Located in the Golden Gate National Park, it offers horseback riding lessons and summer horse camps for children. This particular park is staffed by trained professionals who are adept with the procedures needed to maintain safety. Riding a horse around the Miwok Livery stables shows the flipside of urbanity. The diverse natural environment of California is shown in the oak trees and grasslands that are home to deer, hawks, and many other kinds of wild life.
San Francisco is known for the sophisticated lifestyle that comes along with it being a busy metropolis. However, that is not the only aspect that this particular city has to offer. It also has the kind of views that only a place ripe with natural beauty can claim to have. For those who are about to make the big transition, it is a good idea to experience the many sides of the city by looking where to find horseback riding when moving to San Francisco.