Green Packing - Supplies
When it comes to packing for your long distance move, the biggest impact on the environment you can have is to be conscious of the supplies you use. Find out how you can reduce your impact and perhaps save a few bucks on the side.
Boxes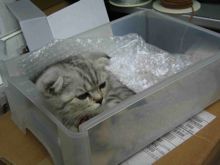 The most common type of packing material you will need for long distance moving are boxes. The best thing to do is to try and find used boxes from friends, family, and commercial stores. Another great source, which can also save you some money, is BoxCycle.com. If you already have boxes which are still in good condition after moving long distance, you can send them to this company to be reused.
There are some companies such as Rent a Green Box which rent out durable plastic crates for moving, however, these usually are only available for local rather than long distance moving.
Tape
The next most common type of packing material is tape. Unfortunately, there really aren't many options when it comes to the type of tape you use for your move. Just try to be conservative when using it.
Bubble Wrap
This type of packing material is most commonly used to protect fragile items that are sent with your long distance movers. Bubble wrap has a big environmental impact and is hard to recycle, however, some mail service centers such as the UPS store will accept it for reuse.
To reduce the impact of this material, try to use other household items such as towels, blankets, pillows, and newspaper or office paper to protect your fragile items from long distance moving.
Packing Peanuts
Also known as foam peanuts, packing peanuts are a loose-fill packing material used by long distance movers to prevent damage to your fragile items by cradling them and flowing around to provide protection from all sides. Some of your fragile items can be packed in crumpled newspaper or used office paper instead.
If you must purchase packing peanuts, make sure you buy the biodegradable kind, as they tend to fly everywhere during transport to a landfill. Some mail centers or perhaps even your long distance movers will accept packing peanuts for reuse.