Los Angeles Apartment Prices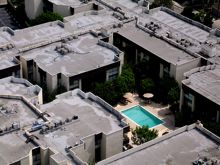 If you are planning a move, Los Angeles is a great place to live. While it is more than just great beaches and handsome people, it is certainly represented that way in the media. After your move to Los Angeles, finding an apartment can be done quickly and easily with the help of an experienced realtor. You can expect to find that the cost can be around $750 monthly.
To live in the Los Angeles, you need to be aware of the premium you will have to pay for most of the places. Los Angeles is approximately 33% above the national average cost of living and housing costs also tend to be among the most expensive in the US.
While can easily find an apartment in the city for around $750 monthly, if you look at the surrounding cities such as Glendale, Long Beach and the San Fernando Valley you may find a less expensive unit. All of these cities have a median rent for apartments at $600 monthly. In other beachfront cities like Santa Monica and Malibu, you will find a much higher price tag for apartments.
The real estate industry in Los Angeles has seen a large increase over the last years, with many homes listed at prices in the millions. However, if you cannot afford a million dollar home, there are plenty of other housing options. Apartment rentals in Los Angeles can be found all over the city in a wide range of prices. After moving to Los Angeles, speak to an experienced realtor to find one the right place to live.
After moving to Los Angeles and looking for an apartment that is affordable, you should also consider the high cost of gas, restaurants and entertainment. You will find that the city often has higher prices for many of these and this can factor in heavily for what you can afford on rent every month.
For those people looking to be close to the beach may consider Manhattan Beach and Malibu, but will pay a premium to live there. Some other Los Angeles neighborhoods are Hollywood, Santa Monica, San Fernando Valley and South Bay. If you have your heart set on moving to Hollywood, is important to factor in the tourism, which can drive up the cost of gas, groceries and rent.