Adjusting Your Cost of Living
Many of us have plans in place to simplify our lifestyles, and for some that may mean moving to a city where the cost of living isn't quite what it is in your current location. Of course there are pros and cons to such a move.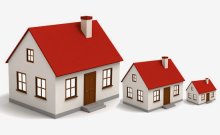 Less expensive cities often mean that the houses sell for less. This means you could get a new home that is comparable to your current residence for significantly less money, which is a good investment. If you go smaller, you have correspondingly lower bills.
There are also scenarios where the cost of living may be lower than average but the home costs may be higher. You need to look at all the variables, including price of gas, housing, food, etc. and know exactly what kind of situation you are moving into. Look at local taxes and see what will be coming out of pocket to maintain your lifestyle there.
Look at what average salaries are in the area where you plan to live. If the job market in that locale stinks, it makes little sense to invest in the expense of moving there. Or if your salary is going to be smaller but still not enough to maintain the cost of living in certain areas that are important to you. If you are dealing with a severe cut in salary but less of a cut in cost of home maintenance, then you might want to rethink this thing.
See what the area offers, and make sure you are getting the most bang for your buck. This means schools, entertainment, sporting events, nightlife, etc. Do you want a place that is loads of fun or more quiet and low key? Moving is an investment and you don't want to throw your money away.
Be sure to organize your long distance move. Moving to a less expensive home will allow you to get rid of a lot of items you no longer need, but you still need to be diligent and organized in your efforts leading up to and during the move.