Moving from Los Angeles to New York with your artwork will require special care and thorough planning. Art regularly gets transported around the world, as both individual and professional collectors buy, sell and relocate. Both Los Angeles and New York are incredibly important art destinations, therefore this is a common moving route.
If you're going to be packing your belongings, including your artwork, here are a few tips to ensure your art collection is securely packed. You'll want to use all the right packing supplies and materials to prevent any potential damage from occurring during transit.
How do you pack art for a move?
The kind of artwork you have will determine how it gets packed for your long distance move to New York. If you have a few small pieces of art, and some framed pieces, chances are you can wrap and pack these yourself using some of the tips below. However, if your have larger, uniquely shaped or valuable pieces of artwork, it might be the case that you will require customized packing and shipping. Customized packing would mean to build a protective casing that is based on the individual size of the artwork.
Organize your artwork by size. Any pieces that are small enough to fit into standard boxes can be packed together.
For larger pieces of art, you will want to use a specialized box that is a little larger than the art being packed. You can make these yourself or purchase from a specialist store in Los Angeles.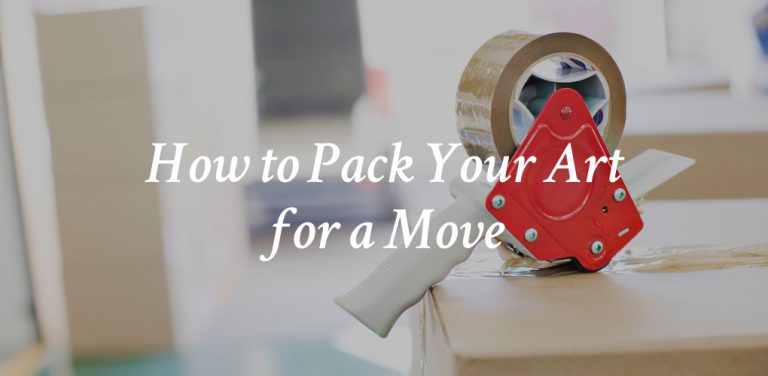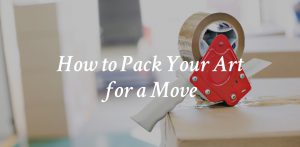 The importance of using a hard crate when transporting art
 When you're moving large or uniquely shaped art that's valuable or fragile across the county, or even locally, having it packed in a hard crate is the best way for it to safely be transported.  The most common is a wooden crate, which is used by most moving companies and professional art handlers and shippers.  
How do you pack a large canvas painting?
 Packing a large canvas is similar to packing other pieces of large framed artwork, however, if you have an oil painting that has newly been painted, it shouldn't be packed until it is dry. This could take up to six months. Once you are ready to pack your large canvas for the move from California to New York, wrap it in bubble wrap and securely seal it with moving tape.
How do you transport a large painting on a plane?
 If you will be flying from Los Angeles to New York and want to take your artwork with you, its vital that you contact the airline before you arrive at the airport with your art. You will need to check that the artwork meets their carry on requirements and that it can be stowed safely on the plane. The majority of airlines do allow crated artwork to be checked in, like any oversized item, baggage fees will apply. It's always advised to contact the airline directly to find out about their policy when it comes to traveling with artwork.
How do you transport artwork yourself?
If you have rented a moving truck, or driving your own packed vehicle cross country from Los Angeles to New York, you'll want to ensure your artwork is upright for the duration of the journey, and that nothing is hanging above it, or placed on top of the art. It is also very important that art is placed where it cannot move around, potentially causing damage. It's a good idea that anytime you stop to refuel, or for a rest, that you check if the artwork remains secure and that nothing has fallen on it.
Hiring professionals
If you're going to be using one of the reputable long distance moving companies in Los Angeles to professionally transport your art collection, spend time researching any companies you are considering and check reviews. Many moving companies in both Los Angeles and New York are experienced in moving valuable art collections. Asking questions is always advised, especially if you need added reassurance about entrusting someone other than yourself with your art collection. There is also the option of using fine art shippers. They can be found in major cities, especially art hubs such as Los Angeles and New York. The Internet is also a good way to source fine art handlers and shippers, where you can see what experience other customers have had. Using a professional art shipper to transport your collection to New York will give you assurance that your artwork will receive white glove service. If you have a large art collection, large sculptures, or any valuable pieces, using a professional art handler to pack, transport and install your collection is advised.