Where to Shop in Los Angeles
If you have recently moved to Los Angeles and are wondering where to shop you'll find that Los Angeles has stores to fit everyone's budget. You can find great specialty stores, department stores, malls, discount stores and more that will interest people of all ages.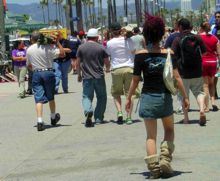 If you haven't been to Venice Beach, it is a good place to go for discount merchandise as well as a fun place to walk around. You can find trendy clothing, souvenirs and other things at great prices. Venice Beach is a good place to stop off to grab a few bargains. You can also try Long Beach if you are looking for some good deals on clothes. You will find the fashion district and Fourth Street with great designer clothing.
Santa Monica, which is just a great place to visit, also offers trendy clothing by designer labels. When you are done shopping you can find nice restaurants and galleries for your enjoyment. For a great Hollywood experience, visit Hollywood and Highland, which will give you a feel of a Hollywood movie set that has boutiques and malls offering you a great shopping experience.
A great place to walk around with your significant other is Old Pasadena, which has plenty of charm and offers many chain stores and boutiques. The Farmers Market with its open air court and various types of cultural food is another great place to shop. It has many shops offering low prices on merchandise and also features historical monuments and landmarks for scenic views.
Deep in the heart of Los Angeles you will find the sights and sounds of Mexico with small stalls lining the street selling clothing, shoes, toys, collectibles and other merchandise. After moving to Los Angeles, discovering great places to shop can be very easy with all the variety of stores available.
Some of the best and most fancy places to shop are on Rodeo Drive, which is one of the most popular shopping areas in Los Angeles. Besides doing your shopping here, you may also run into a famous star. The boutiques in Midtown and West Hollywood also draw in celebrities. The shopping in Los Angeles can be adjusted to anyone's budget with prices varying from store to store.