Why the Size of a Moving Company's Fleet Makes a Difference
A moving company may have a large fleet or a single truck. The kind of move you have may depend on the number of moving vans available for your relocation. There are many things to consider.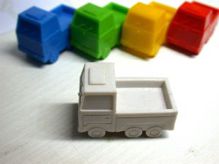 People often notice a moving company with a large fleet because they see the moving vans on the road. You may feel safer with a moving company that has been a part of the scenery so much of the time. Your perception of the company as a successful one makes you more comfortable with their ability to meet your needs.
On the other hand, a moving company with a small fleet might suit you better if you like a personal touch. You might like the idea of knowing that your business is especially important to the moving company. You might feel more relaxed if you have a chance to speak to the actual owner of the moving company.
The size of a moving company's fleet can have a bearing on the maintenance of that fleet. If a company only has a few trucks, they may have to all be in service every day to keep up with the workload. There is little time for scheduled maintenance, and no time at all for unscheduled repairs. When a van in a small fleet breaks down, it can cripple the entire moving company and interrupt your relocation plans.
When a moving company has a large fleet, there are always spare vans to be rotated out for maintenance. If a van breaks down, the moving company will just send another vehicle right out from among its extras. You will not waste precious days waiting for the moving truck that did not arrive.
The schedule of a small moving company is, by its nature, very tight. There are only so many trucks, and they all need to be kept busy to keep the company profitable. You might have to wait for a different move date than you wanted because the small moving company cannot fit you in on your preferred date.
With a large moving company, there is much more leeway in the schedules of the moving vans and crews. This means that it is easier to move on the date you want to move. However, it also may mean that the van will not be as prompt as possible. That depends more on the quality of the moving company than on its size.
If you have an extremely large home, you may need the services of a moving company with many trucks in their fleet. One van might not do the job. If you are moving just an apartment's worth of belongings, a small moving company might be just right for you.
There is no real answer to whether a moving company with a large fleet is better than one with a small fleet. There are practical considerations that set them apart. While a moving company can be judged by many different criteria, the size of its fleet can make a difference. The individual must decide.
Recommended Reading
Considering moving from New York to Los Angeles?