Packing Your Plants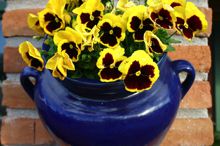 One or two days prior to your move date, you will need to start packing your plants for the move. It is recommended to leave your plants as one of the last things to pack when you move. This way you minimize the period of time they need to be closed and crushed in boxes and they'll be one of the first things unloaded and unpacked at your new place.
Plants will suffer from long exposure to extreme weather conditions both heat or cold, and lack of fresh air. The temperatures in a moving truck can be freezing in winter and extremely hot during summer.
If possible, consider moving your plants yourself in your car as this may be the best solution for your plants. This way you can give them the care they need along the way. If you choose to move your plants in your car, avoid putting them in the trunk for long. It lacks air and could expose your plants to extreme temperatures, similar to those in a moving truck.
Plants can take up a lot of space, if not in boxes. To pack your smaller plants, consider using a dish-pack as they have adjustable compartments that work well for holding a few small plants.
Be sure to wrap a plastic bag in bottom of each box if bottoms of pots are moist. If the season is very warm, wrap some damp newspapers around the plants to help keep them cool on the road.
Large tall boxes, such as wardrobe boxes, are great for packing tall plants. A few tall plants may fit in together. As you box your plants, steady the pot bottoms so that they will fit and won't jiggle around too much. To do so, add damp newspaper around the base of the pots. Next, use paper to cushion branches and leaves of the plants.
To allow optimal air circulation, punch holes in the sides of your plant boxes. Be sure to mark these boxes "Plants" and add instruction to pack on last on the moving truck or car. Most movers will not water your plants while in transit so these instructions are not required.
This article is provided California New York Express as part of the company's comprehensive Service Pledge. We, at California New York Express, believe that a smooth move starts with education and understanding of the services provided.
California New York Express is a leading moving company, providing superior coast to coast relocation services since 1995. For more information, please feel free to contact us.