Moving with Dogs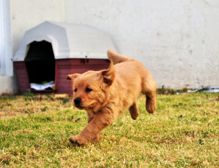 Dogs are generally easier to move than cats since they are not as affected by the stress. However, you will have to carefully plan your move and prepare your dog for it to be able to detect any stress signs on time.
Before You Move
Some dogs may become distressed or anxious during packing. To minimize optional stress, confine it to a quiet room away from boxes and packing areas. As you pack, leave packing its toys, bedding and other favorite equipment to the last moment so it can be comforted by the presence of familiar things. Do not wash bedding until a couple of weeks after the move, so that your dog will have some familiar odors and scents in the new house.
On the Day of the Move
It is recommended to keep your dog out of the house during the move day. If your dog must be staying with you during the move, put it in a secure room. That will help preventing stress and injury while your movers are going in and out of the house.
While in transit, make sure that your dog is safely secured in the car or vehicle that they are to be transported in to the new house with a dog guard, travel crate or car harness on the back seat.
If it is a long journey, make sure that they get regular toilet and water breaks. A few special considerations to keep in mind include being prepared to clean up after your dog at rest stops. Carry disposable plastic bags.
As you stop for breaks, keep in mind that the temperature in a parked car can raise rapidly and your pets might suffer from the heat. Let you dog get out of the car as you park. It is good for keeping its body temperature normal and will allow it to exercise and relax.
If you plan a long distance move, prevent travel sickness by not feeding them for 12 hours before the journey. If you know your pet suffers from travel sickness, ask your veterinarian about anti-sickness pills.
In Your New Home
As you settle in your new home, check your boundary fencing to make sure that it is secure, high enough, and 'hole-free' before letting your dog run free in the backyard. If your dog is able to escape then take him out on a leash until you are able to do the necessary improvements.
Unpack essentials items before introducing your dog to the new house so that it can see familiar items within the unfamiliar house. If possible place furniture and items in similar places to those in the old house.
To help your dog settle in as fast as possible, be sure to keep your usual routines. Feed and walk your dog at the usual times. Don't give more or less attention than it is used to having from you, this may cause anxiety.
This article is provided California New York Express as part of the company's comprehensive Service Pledge. We, at California New York Express, believe that a smooth move starts with education and understanding of the services provided.
California New York Express is a leading moving company, providing superior coast to coast relocation services since 1995. For more information, please feel free to contact us.