Moving with Cats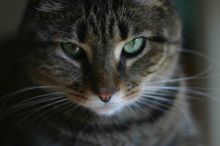 Much more than dogs, cats are famous for getting into trouble during the moving process since they are particularly sensitive to stress. According to scientists, stress for a cat is cause by the following factors that are gone only when you settle in
Reaction to novelty. Cats don't like novelty.
Reaction to unpredictability. Cats don't like unpredictable events.
Degree of control. Cats don't like to be out of control.
For these reasons it is important to maintain normal routine for as long as possible.
On The Day of the Move
Your moving date can be terrifying for your cat as it can sense the changes and the stress during that day. Your cat will sense the change by the amount of strangers in the house, the movement of furniture, and the changes in his day-to-day environment.
During the move itself, keep your cat in one room with food, water, a litter pan, some favorite toys, and the carrier you plan to use (if you plan to use one) so your cat can get familiarized with it.
Be sure to purchase a cat carrier, large enough to have room for food, water and a small litter box. Once you place your cat in the carrier, the door must remain locked and have a large, "Do Not Open" sign on it to prevent the release of your cat by the movers.
To assure that your cat is getting accustom to the carrier, let your act get familiarized with the carrier a few days prior to the trip and be sure to make the crate feel like home by putting their food inside and leaving the door open so they can freely come and go.
On The Road
The time spent on the road can be hard, especially if you are moving long distance. To ease your cat's trip and yours, it is recommended to make the following preparations:
Update your cat's vaccinations and pack all related paperwork.
Invest in a good leash. Your cat will most likely need frequent rest stops along the way, and you don't want to take the chance of its escape in a strange place. You will find it helpful to have your cat be familiar with walking on a leash before your trip.
Make sure that ID tags have your updated phone number.
Carry plenty of bottled water, food, and portable litter boxes.
Arrival at Your Destination
Upon arrival at your destination, place the cat and carrier in one secure room with at least two doors between the cat and the outside. Open the door of the carrier and let the cat out. Allow your cat to become acclimated to the one room before releasing him to the rest of the house.
This article is provided California New York Express as part of the company's comprehensive Service Pledge. We, at California New York Express, believe that a smooth move starts with education and understanding of the services provided.