Home Improvement - Landscaping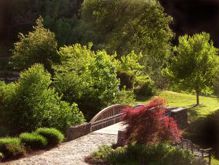 And most homeowners want to tackle these types of home improvement projects, but don't know where to start. We'll help you get started -- in particular, we'll help you decide whether you need a pro to help you, or whether you can do it on your own.
Whether to use a professional landscape designer when drawing up your landscape plan is a personal decision.
Expense and the homeowner's personal experience with landscaping are a few of the key points that come into play -- most new homeowners use a pro to help draw up their plan, even if they decide to actually do the work themselves. A consultation with a pro now can save you a lot of money in expensive mistakes later down the road.
Here's a good rule of thumb: If you have any question in your mind about whether you need help, it pays to at least consult with an expert before doing a plan on your own, particularly if it involves technical expertise like water sprinklers in the yard.
If you decide to get some help, here are some things to look for. You can either use the old fashioned phone book method, or take matters into your own hands. The best route may be word of mouth. Strike up conversations with local homeowners in an attempt to find someone who has employed a landscape professional," says David Beaulieu of the About.com Landscaping Guide.
Once you've narrowed down the list, find some people who have used the professional in the past, and ask them these questions:
Were you happy with the plan that was drawn up?
Did you have any problems during the process, and how did the professional resolve them?
How long did it take?
How much did it cost? Is it close the amount you were estimated?
Was the designer willing to make changes and accommodate your desires?
Was he/she personable and good to work with?
The First Step in Planning
There are a couple of things a homeowner can do to help the planning process go smoother.
First, having a good idea of what you want will save a lot of time and expense. Spend some time looking through books and magazines, and create a tear sheet folder of all your favorites.
Whether you hire a professional just to draw the landscape plan, or for the entire project, it is wise to avoid problems early. If you have any questions, during the consultation is the time to ask them,  advises Beaulieu. There's nothing that stops the wheels of progress on a job quite as much as having the clients change their minds midstream on major aspects of the plan.