New York Amusement Parks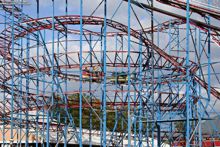 There are several amusement parks located in and around New York that can add excitement to your day or your trip! If you are moving to New York, these will be great places to take friends and family who come to visit.
A popular amusement park located in Central park is Victorian Gardens, which makes a wonderful day trip for visitors. The price for admission ranges from $6.50 to $7.50 and the park is open every day during the months of summer. The park is often busy with fundraisers, corporate events, and people who are there to get their face painted or enjoy their live entertainment. Although the park isn't huge it can hold up to 3,000 people and offers about twelve kiddie rides, interactive games and has storytellers and clowns.
If you plan to move to New York State but will not be in the city there are several more parks such as Sylvan Beach Amusement Park and Rye Playland. The Sylvan Beach Amusement Park is located just outside of Syracuse New York on the shores of Lake Oneida. This park features rides such as bumper boats and cars, a Ferris wheel, roller coaster and mini golf and is open from April until September. They offer both group rates and party rates.
If you are looking for some classic roller coasters, you will want to check out Seabreeze Amusement park. Located in Rochester on Lake Ontario, Seabreeze features both a wooden roller coaster and a steel coaster, plus a water park. Seabreeze contains seventy great rides for adults and children.
Another great park with original art-deco architecture and great ambiance is Rye Playland, which is located in Rye, New York. This great park has fifty rides including a Dragon wooden coaster, a classic carousel, a freefall ride, and a splashdown ride. It is located on a seaside boardwalk and is a wonderful way to spend the day with friends and family.
New York is sure to offer you what you're looking for, whether it is a day of thrills or a relaxing day by a lake. You can find Enchanted and Magical Forests, and Santa's Workshop to keep your children happy. New York has all the thrills.